Hi everyone! After spending a day on two buses and in Atlanta, I have arrived in Charlotte, NC, where my baby brother is going away to college! I have been absolutely plagued by spotty WiFi (even at the CNN Center, where I thought for sure, if anywhere in the world, I could get on the internet), and I'll be trying to soak up every moment I can with them, but I can't wait to share some pictures and adventures when I'm back in Nashville!
In the midst of this crazy week, I've been thinking a lot about blogging, and my thoughts usually fall into three categories:
1. Blog-enthusiasm: That high when you WANT to write. You want to post, you feel excited, you feel like you could type for ages and you're in a "Blogging is for ME! Who cares if I have 6 followers?" mood. A great idea for a post hits you in class and you realize you have a computer at your fingertips.
1a. Blog-enthusiasm anxiety: A subset of this is. When you have a really good idea for a post and then you forget it.
2. Blog-guilt: When you neglect your blog for a few days and you think, man, I should really write a blog post for my 6 followers or I might loose them. The first rule of blogging is to be consistent. I need something exciting to happen in my life or else I will make something up and take pictures of it.
3. Blog-envy: When you read everyone else's blog and think: Why is their life perfect? How did they get their Twitter to link? Where did they find that cool layout? Why does everyone know how to make a good, professional-looking blog but me? Why does everything they wear look so fantastic? How can their kids be so cute and well-behaved? Where did they find the most perfect husband in the world?
I read an interesting post the other day by Alissa at The Adored Life, where in a letter written to her (in the future) by her 21-year-old self, she writes, "

You are not allowed to focus on the blog as a way of validating yourself. You are blogging for yourself, yes, it's incredibly fun and you have met great people, but don't make it about numbers or stats."
Maybe that's a duh for you, but for me, it was incredibly profound. Why do people use their blog as a way to validate themselves? To prove to themselves and others that they are smart enough, funny enough, a good enough writer, or wear cool enough clothes? I realize that's just silly, and if you're not loving it, you shouldn't be doing it.
This doesn't end up changing much about my blog itself, although I think it will change some thoughts behind what I'm writing. I honestly started this blog during a transition in my life. I had been thinking about it for a while and finally decided, "If I do stop running cross-country/track, then I will start a blog." And here I am.
To lighten up this text-heavy (and maybe young-adult-angsty) post, I present to you, our e-card of the week: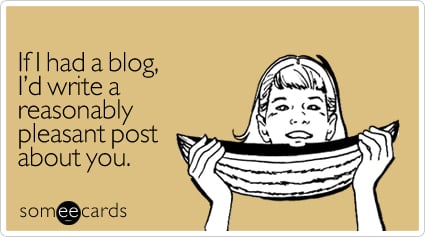 Does any of this resonate with you? I'd love to hear about your thoughts on blogging and how you keep yourself inspired and blogging for yourself. Happy Friday to everyone!