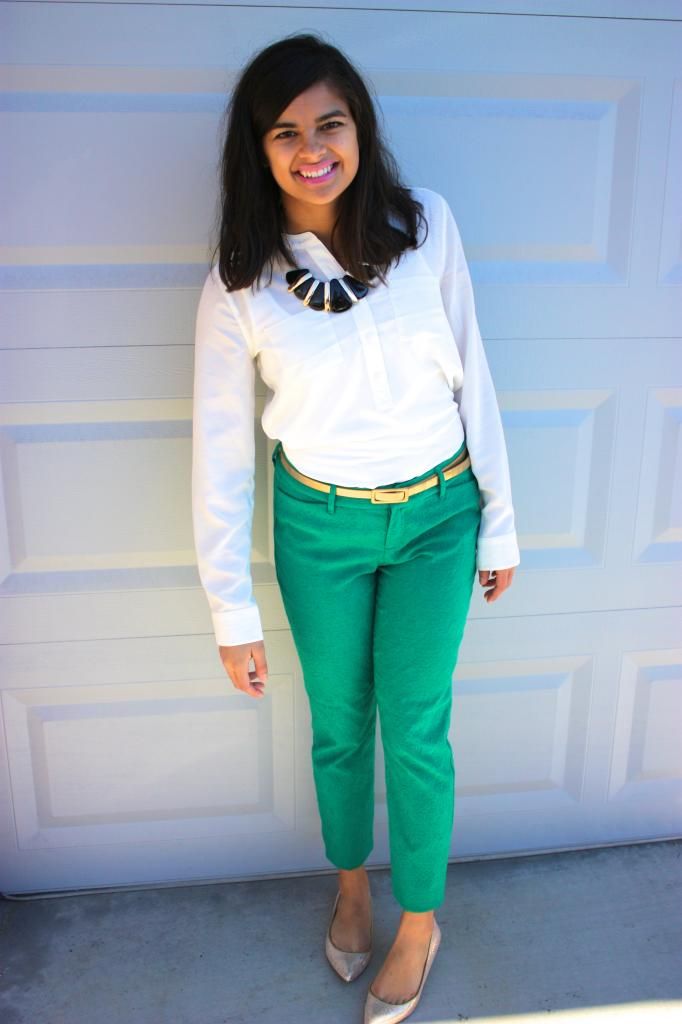 necklace- gift from Huntee, blouse- Old Navy, belt- Wish Memphis, pants- Old Navy, flats- Report c/o Carina
Meet my new favorite pants! Lately if/when I shop, I maintain a mindset that I want to fill my closet with only things I love. Enter these beauties. I believe I was Christmas shopping (for others) at Old Navy when these caught my eye. I was totally mesmerized by the opulent emerald color & wallpaper-y texture, and I couldn't help but think they looked very Anthropologiesque. I passed them by initially but couldn't stop thinking about them the whole time I was in the store. And if that's not a sign to buy, I don't know what is!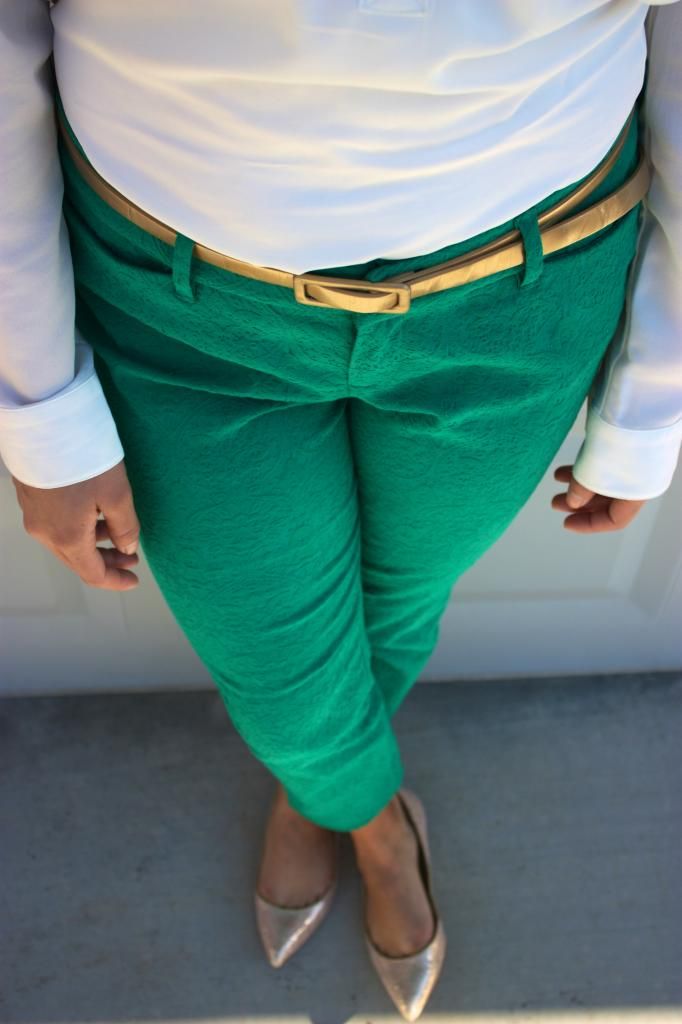 And then I had to try them on. I know you don't want the full sob story about how chic ankle pants never fit me because I'm short and have legs that have run, a lot, but these FIT! With a simple (non-existent) one cuff tuck-under, they are the perfect length for my shorty gams.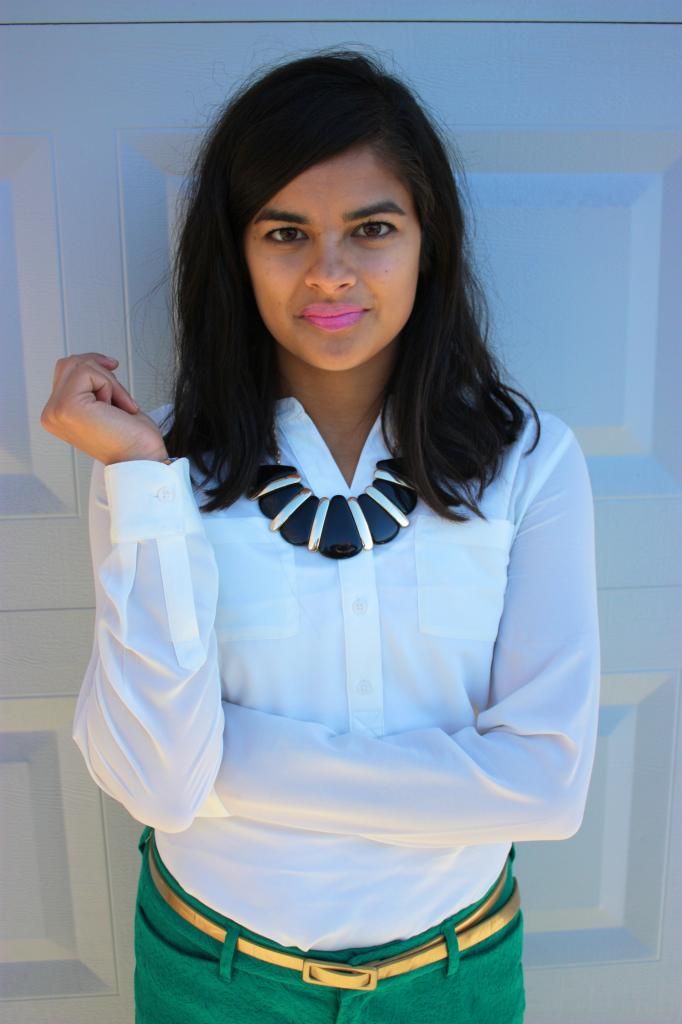 Major shout-out to my little brother, Amir, who took these pictures for me while I was home. This shot is my fav because it really shows off the pants! Good eye, Mel! [Anyone have time for a really quick & cute family story? Amir's childhood/forever nickname is Marshmellow tee-hee!]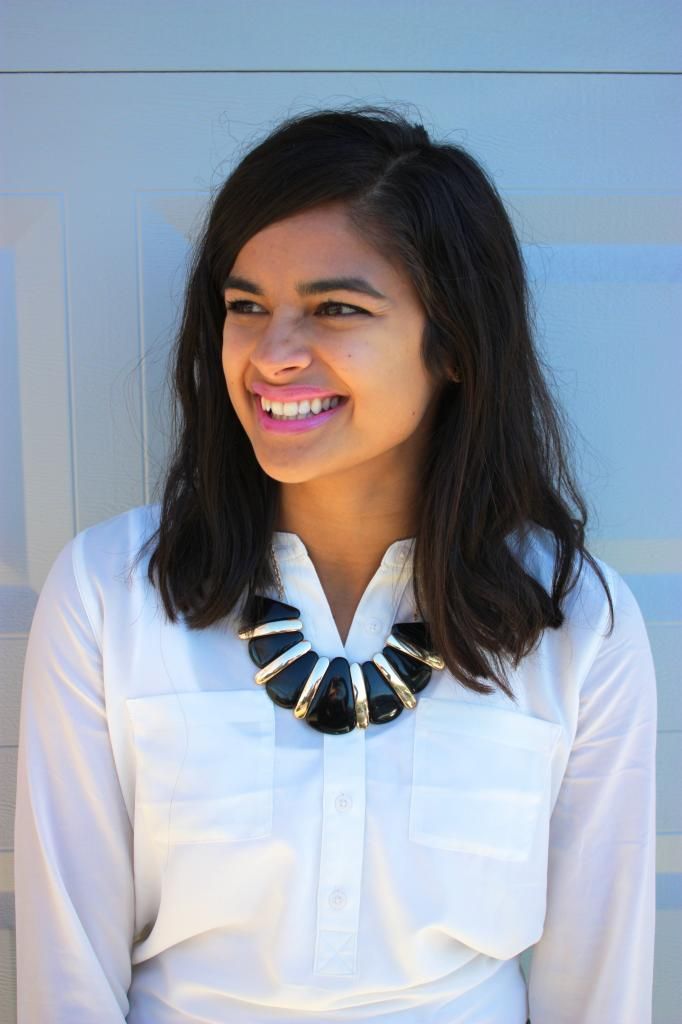 I have to confess I bought this outfit as an entire combination. You may remember my first foray into
silk blouses
, I am equally obsessed with this one. It's even at the dry cleaner's now because I spilled coffee on it last week. I would really like one in every color...
Old Navy also carries several spins on the pants, I'm dying for the black tuxedo stripe pair (
see Kendi wearing hers
) or the black wall-paper-y ones. Run, do not walk and get thyself a pair! PSA for how much I love Old Navy, done.
Pink lipstick courtesy of my housemate, Shelby, for a very Merry Christmas indeed! The shade is
Saint Germain
by M.A.C. (this girl's first M.A.C. product)! This necklace just keeps on giving (
take a gander
at a few ways I've worn it!). Also,
please
excuse my bedhead. All. The. Time!
So I'm totally sold on this combo, and would recommend both pieces to your closet. Not gonna lie, the emerald + gold combo made me feel deluxe.
Is everyone having a good week so far? Mine has actually been really great, not super busy, but I am enjoying the down-time after work. I did join the YMCA yesterday! My only plans for this weekend so far involve shelving for my room (wheeee, I am an adult) and possibly a good old Friday night out on the town. We'll see!