New post up on a Sunday? Believe me, no one is as surprised as this girl.
Howdy-doo with my next set of outfit photos shot by my talented friend Stephanie. I'd like to take this opportunity to say that I no longer believe in color rules of any kind. It's 2014, there's no such thing as color rules! Mo' colors, no rules, that's what I say.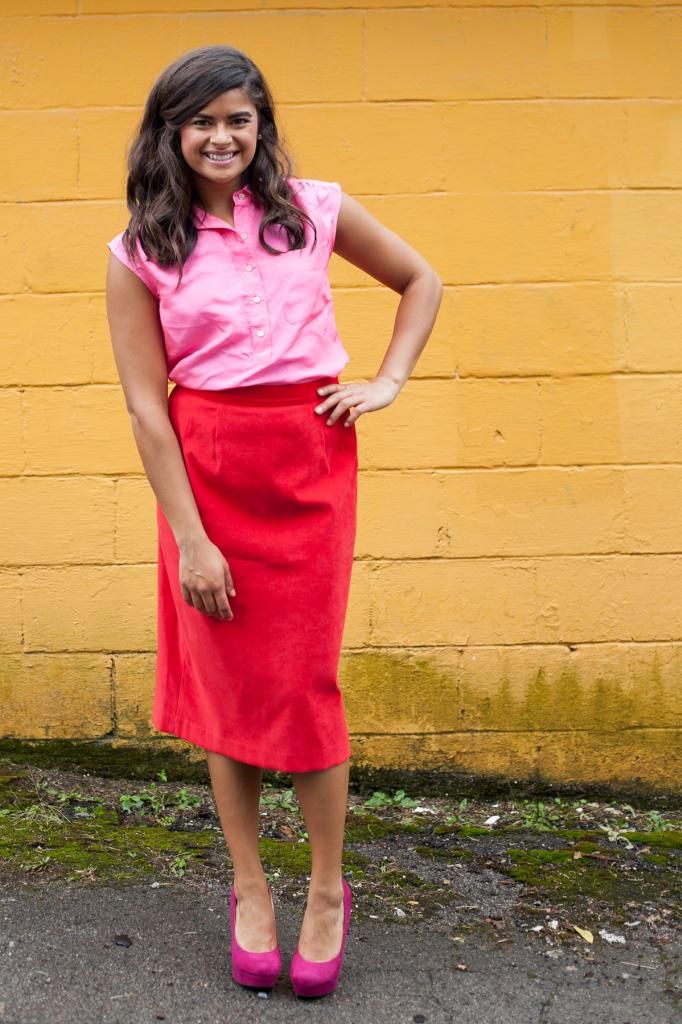 | top: secondhand J.Crew (via Shelby) | skirt: thrifted | heels: Target | earrings: Forever 21 |
I've been trying out several color combos like this, usually involving this perfect pink blouse. As much as I love it, that's how much I hate getting it dry-cleaned. I tried it out with red pants here (mortified by how wrinkly my shirt is in this picture. Don't judge.) The pink + red combo makes me feel like a happy little Valentine, so I couldn't wait to try it out with this skirt. I opted for another punch of the same palette with the shoes here; but full-disclosure, when I wore this to work, I wore my orange wedges instead. Much comfier and I loved that color combo too.
Ok enough blady blah about my outfit. Two sweet girls nominated me for the Liebster award recently, and while I've already done the whole process before, I can't resist answering fun interview style questions.
First up is from Gigi at Dolce and Gabriella; such a cute girl, who expertly covers some unique topics on her blog. I love her effortlessly cool style and her DIY tutorials (making your own jorts, which I'm dying to do, here!) Plus she's enjoying my home state right now, and I love viewing it through her eyes! Thanks for the nomination Gigi!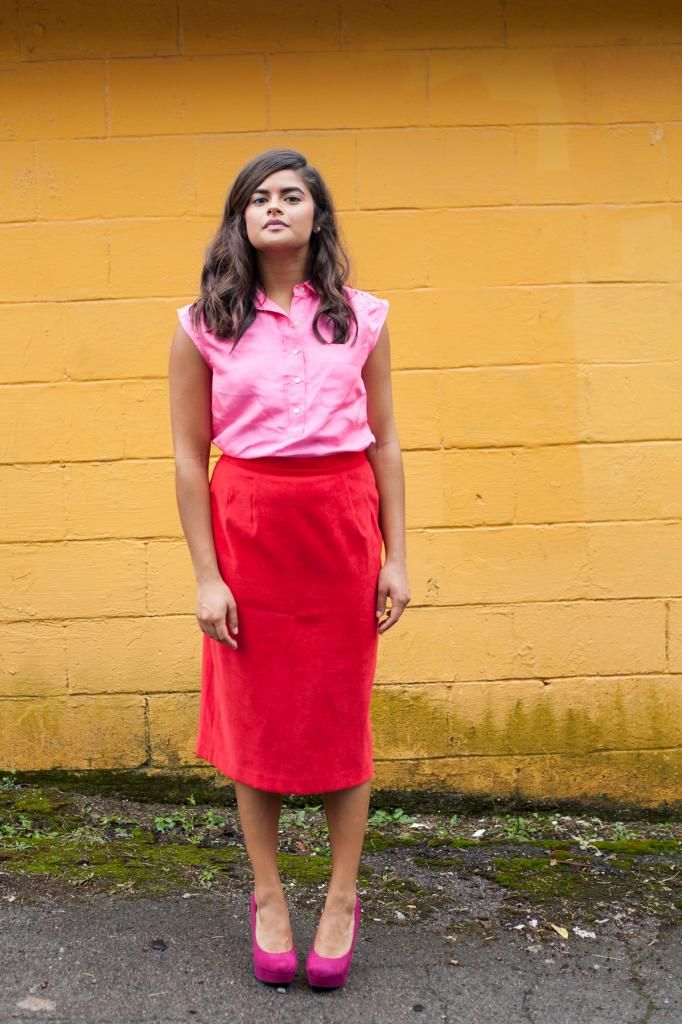 1. Fill in the blank: I got 99 problems but _____ ain't one.
Thinning hair. On this day, I am dreaming of a pixie cut. Who wants to discuss this with me?
2. You get to/have to take a trip around the world with one other person for a year. Who would you most enjoy/tolerate doing it with and why?
I'm going to say my friend from home, Rachel. Not only is she a world-class traveler, with the smarts I'd need to survive a trip like this (she just spent three months in South America); she's a terrific friend and I miss spending time with her. Getting to hang out with her for a year around the world would be ultimate!
3. What's the best compliment you've ever received?
We'll go with blogging compliment. Gigi said she loves my "friendly, witty writing style." Not a cop-out answer, ok? It's really nice!
When I did an interview with Emily of Bon Marche Couture, she said, "

She is bubbling over with enthusiasm and a sense of fun without being one of those people who makes you feel like a loser because her life is so effortlessly perfect."
Both things I strive for with my blog. Now that I'm feeling totally self-absorbed...
4. Name the next Kardashian sister. You can choose to continue the "K" dynasty or derail it forever…the power lies in your hands.
5. If it were impossible for you to fail at it, what's one thing you'd do?
Be a stage actress full-time.
6. If you were to write a coffee table book about something, what would it be about?
First- this question is amazing. Teacups around the world, playlists for everything, theme parties, Beyonce, people in their cars, flower crowns; how could I pick just one?
7. What possession does your best friend have that you'd like to steal the most? (FYI: "her boyfriend/girlfriend" is not an acceptable answer.)
Hmm her hair or maybe her engagement ring ;)
Serious: All High School Musicals.
9. If you could change your name, would you? To what?
When I was younger I really liked classic names like Emily or Amy, but now, I don't think I would!
10. What's your most guilty guilty pleasure?
Speaking of, watching the Disney Channel. Also bad pop music and eating dessert for breakfast/lunch/dinner.
11. Once you've made it and you're filthy rich, what's one thing you're never going to do yourself again?
Park my car. Wash & put the sheets on my bed.
Thanks again for the nomination and the fun questions to answer, Gigi! Be sure and check her out at Dolce & Gabriella.
Ok, I'm off to enjoy the last few hours of the weekend.
In the meantime, I would love to hear your answers to some of these. Favorite Disney Channel Original Movie? Coffee table book? Kardashian sister? Guilty pleasure? Go go go!