Happy Saturday! Aka the best day. I mean, what is better than waking up and asking yourself, "Hmm, what would I like to do today?" How often does that happen?! Kinda once a week.
This is an outfit I wore to work last week, in what I would call "anticipatory Fall fashion." We ended up having a happy hour event outside in the afternoon, and the vest came off so fast. Edit: it's actually cold now. Last night I wore a skirt/t-shirt and was freezing. Ok Fall, if you're serious about it, then I'm serious about it.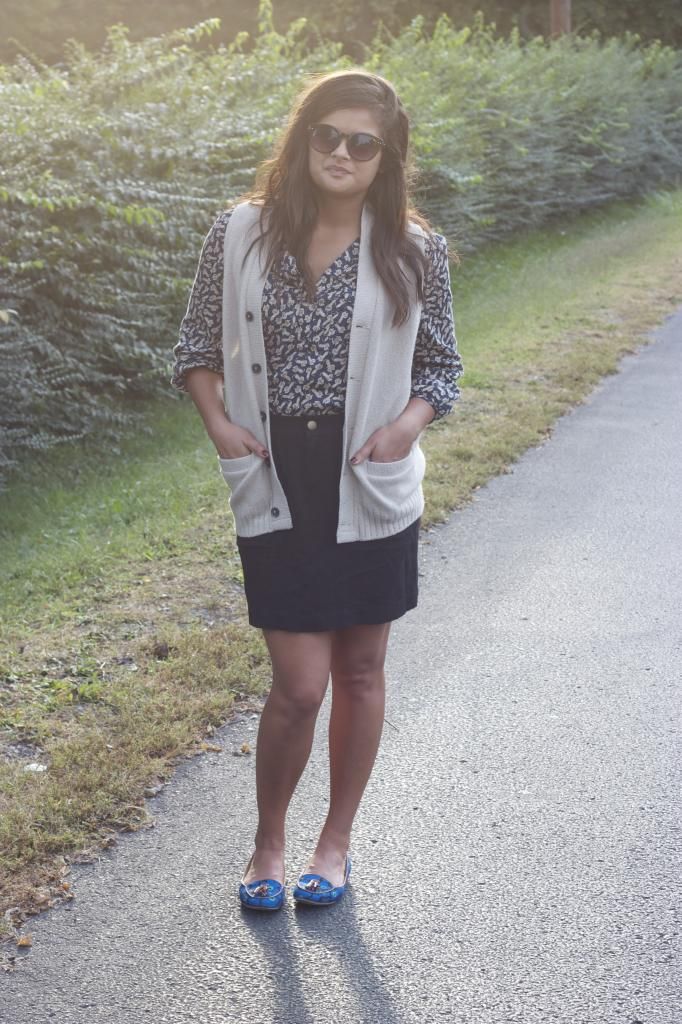 | sunglasses: H&M | blouse: Gap Factory | vest: Local Honey Nashville | skirt: Old Navy | loafers: Target |
As I've mentioned, my current style strategy is to wear out my closet. Like most, I'm always trying to downsize and whittle down my wardrobe to only items I love; and like some, I'm on pretty much a $0 budget for clothing while I save for other things.
So, I'm pretty pleased with how this outfit, comprised of "closet orphans", turned out. I love the blouse, vest, and skirt, respectively; but for some reason they don't get much wear.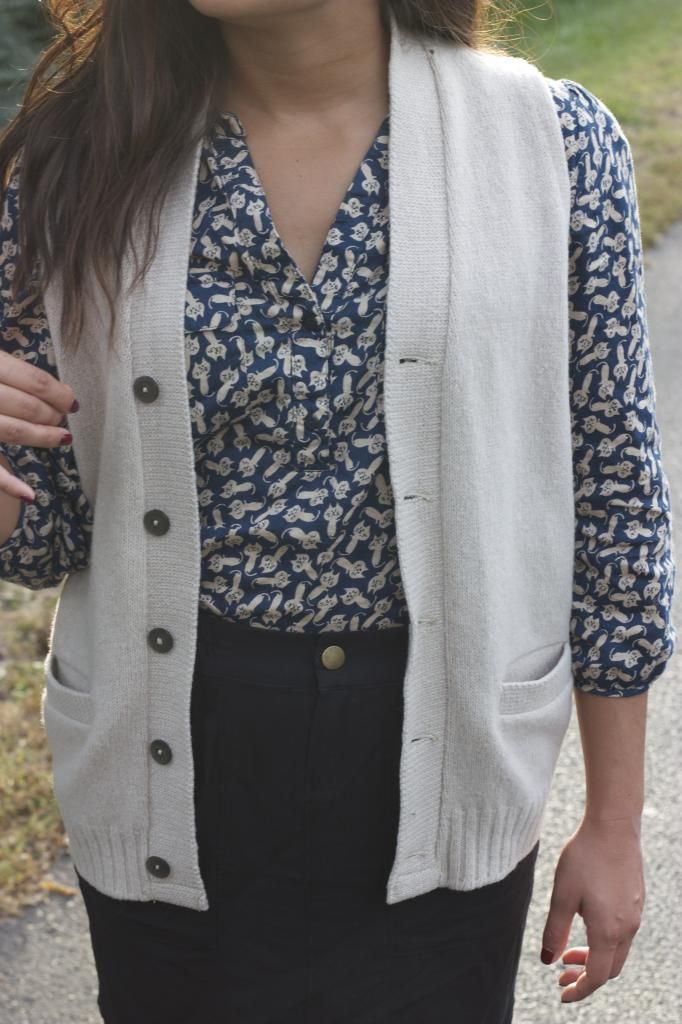 Also I'm combining black and navy which is a huge deal for me! I don't hate it. The vest was somewhat an afterthought as I was looking for something long-sleeved for the morning chill. I realize it's not long-sleeved, but it fit the bill and I love the way the layering turned out.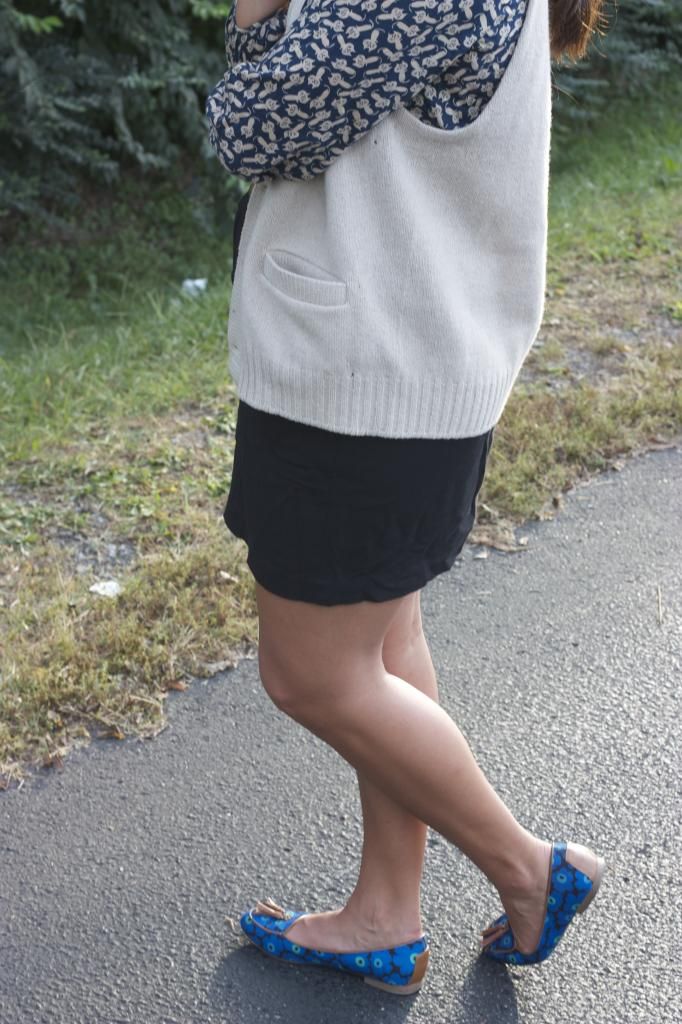 This skirt used to be a bit big for me but now *ahem* fits great, and I think it'll be on heavy rotation this Fall. I don't have a staple perfect black pencil skirt, but I love the drapey look of this one. Bonus it's super comfy.
How pretty is this late afternoon lighting? Love it.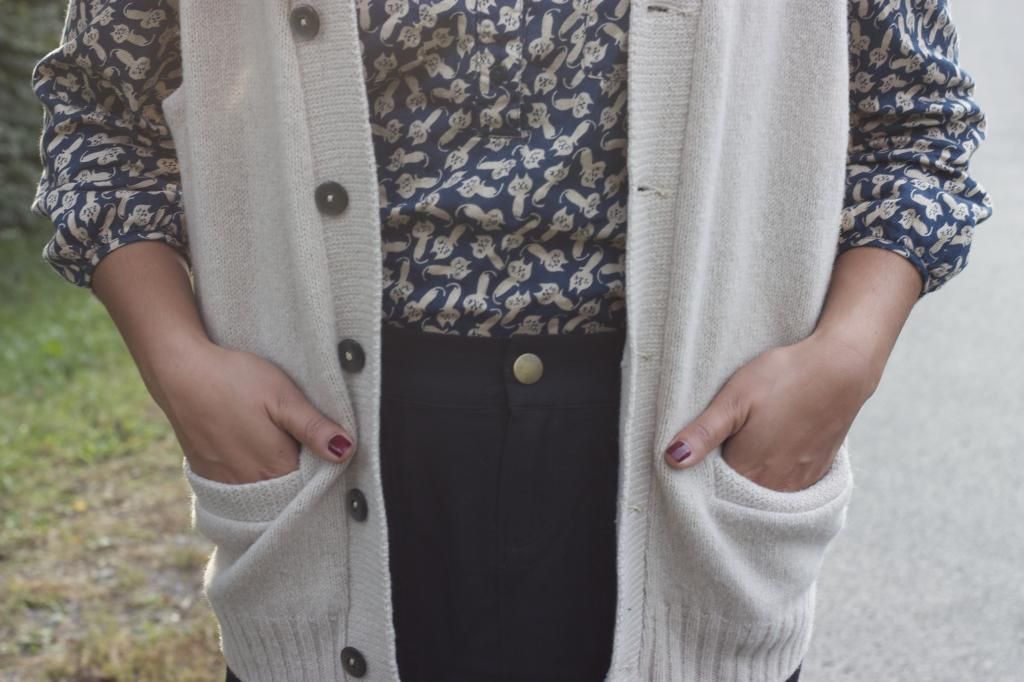 This is the part of the post where I talk about non-outfit related news, in the hopes of not sounding totally vapid. I survived Talent Week at work! Yesterday was a little rough, in the wake of Talent Night. But man, I love my job and I'm coming up on my one-year-anniversary, crazy!
I'm spending today feeling like there's something more I should be doing..? I mean, rather than sitting around with some serious Vols fans as they scream at the TV. Of course I'm watching the game too (I'm not watching the game.)
Meredith
comes into town tonight (yee!) and tomorrow should be strictly business. Have a great Saturday everyone! Talk to you soon.