I have to confess that I'm not really a dog person (or an animal person, necessarily.) It's not that I dislike them, I totally enjoy a good puppy now and then; I just wouldn't compare myself to any of my "dog lover" friends- you know who you are! And I love you for it!

Of course, I say this, and I have spent all morning agonizing over two puppies up for adoption in an email that a co-worker sent around. I literally forwarded the email to Hunter "Can we?!" He replied "Those puppies are adorable! And labs are really good dogs!" Which of course leads me to believe it's a possibility, until he follows up via text "I should have added...'But I don't think you should get one.'" Thanks, Huntee.

But a dog sweatshirt is something I can get behind, completely, and immediately!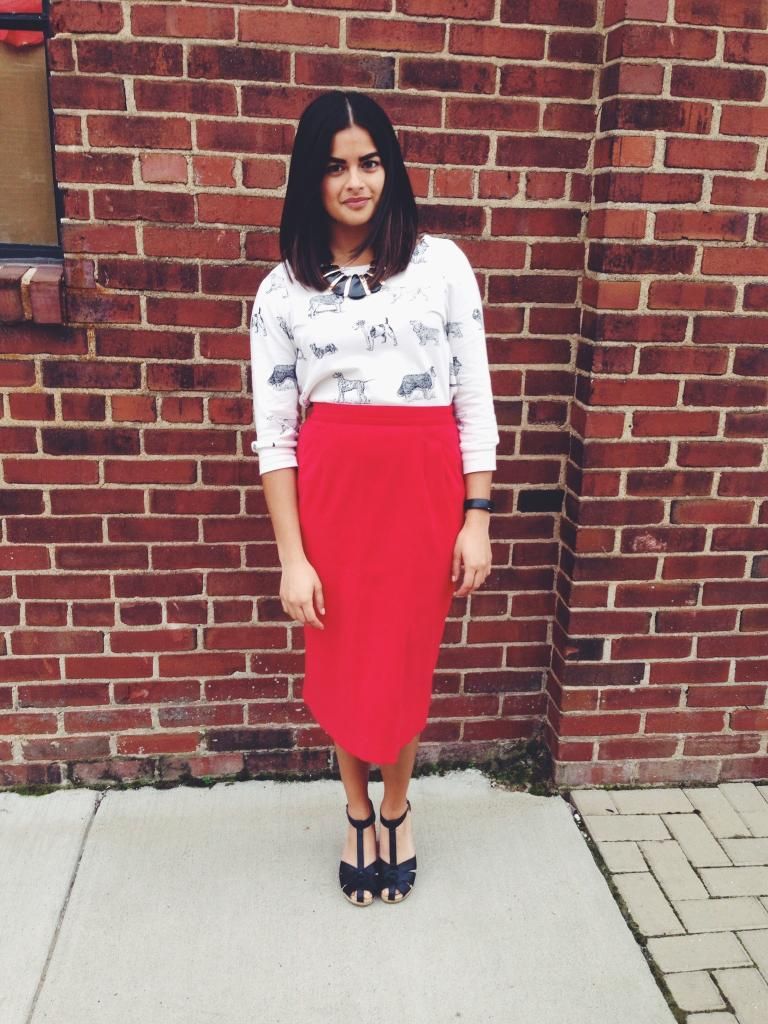 | sweatshirt: Urban Outfitters | necklace: gift (Forever 21) | skirt: thrifted | clogs: Old Navy |
I wasn't necessarily feeling inspired this Monday morning while rushing to get ready for work, but I like the way this turned out. I pretty much threw together a few items I've neglected for a while; this sweatshirt that fools people into thinking I'm an animal whisperer, this
providential Goodwill skirt
, and my
trusted clogs
. The latter two have been on the blog before!
Oh, and I decided to brave bare legs/feet (essentially) because it was mild this weekend and I shaved my legs for the first time in...a while...but surprise, it is very cold again today!
photos via my iPhone, work friend Kelley, and VSCOCam
It's Valentine's week, y'all! I am headed out for what I'm calling "Sistertine's Weekend" (in Austin, meeting Carina) on Thursday- can't wait for that!
In the meantime, I'm running Valentine's errands tonight (I won't even pretend like that's a chore, I'm looking forward to it), making/sending cards and flowers, planning a date + surprises for Hunter tomorrow, packing for my trip, and wearing all the pink & red in my closet while I'm doing it :) today I went on a quest through a box of Russell Stover's to find the dark chocolate marshmallow cream. And oh, did I find it! Only took me like four tries. I love eating so much candy that my teeth hurt, so fun! What a splendid time of year!