It's a BIG day around here, y'all. Today marks the finale of the Four Seasons, One Dress series with
Danielle
! We've now styled our buddy dress for every season,
Summer
//
Fall
//
Winter
; so, ok, I guess I'll keep it since it's THAT versatile.
This might be my favorite look of Danielle's, actually! Those shoes are killer! This would be a fun outfit for brunch, or any outside activity because yay it's finally warm enough to hang outside again! I just "invested" (on Amazon so I could get free shipping, also, #accessoryrule) in a straw hat like this, and I love how it pairs with the dress. Will be copying asap!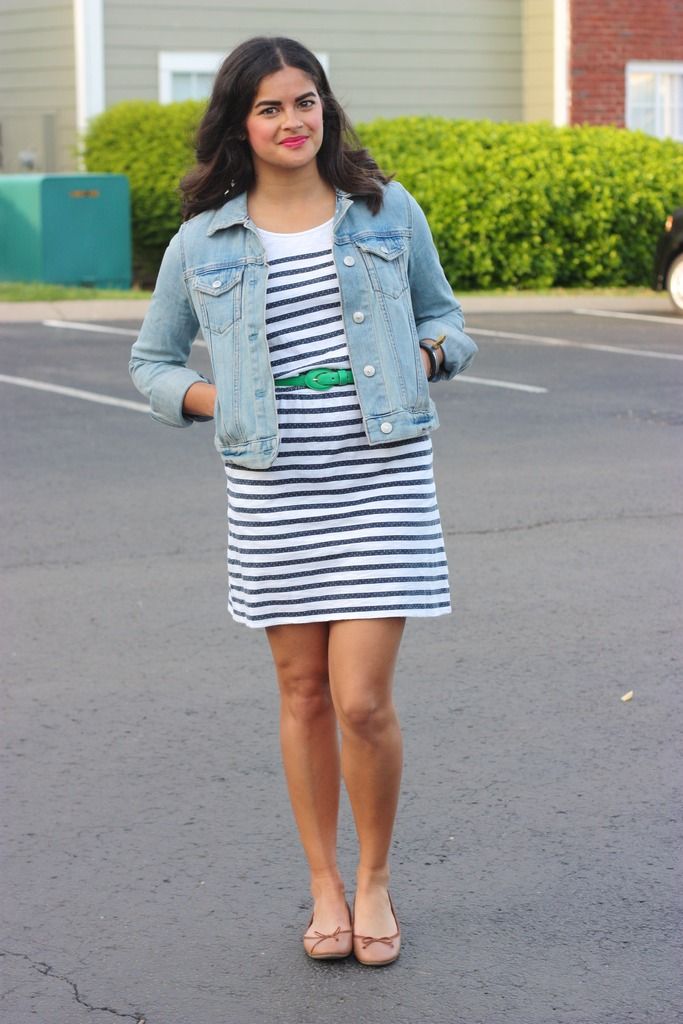 | jacket: Gap | dress: Gap Factory | belt: thrifted in Finland | flats: Old Navy |
I tried to go just as quintessential to every season as I could while styling this dress. If I could turn back time, if I could find a way, I would switch out my clogs for sandals from the "Summer" outfit and wear them here instead! Still, flats (with no tights) feel very Spring-y, as does a jean jacket for the morning chill, as does this green belt that is always on heavy rotation around here.
Here's a whammy of a collage of every way Danielle and I wore this Gap Factory G-E-M this year!
After looking at this collage my main takeaways are: I belted my dress in two outfits (having previously never belted it before, since it has an elasti-waist) after Danielle did it first for Summer; I would really like to raid her closet :); and I never thought I had a "good side" when taking photos, but I always seem to turn the same way, huh? Also I have to say I enjoyed seeing my "hair timeline" here!
I think the look that turned out best for me was the Winter one- the layering makes it more visually interesting, as opposed to the rest which are pretty simple; and the tights make this almost-too-short-for-work dress fit just right.
Danielle looks super fab, but I have to say- the accessories in the Spring look just do it for me.
A big ol' THANK YOU to Danielle for collaborating with me (and having such great style ;); the series may be over, but you can check out her fabulous, affordable outfits right
here
! Thanks also to all of you, for following along throughout the seasons.
So how'd we do? Which look is your favorite, or seems most appropriate for the season?