It's beauty day in June, y'all! I'm becoming a beauty person, one Birchbox/ipsy subscription at a time.
You can view this entire series right here: April // March

//

February

//

January

//

December

//

November.
*This series originally started as I was trying to pick between two subscription services: ipsy and Birchbox. At this point, I don't plan on canceling either; I really enjoy getting them both, recieving and trying out new products, and challenging myself to use everything I receive!
Here are the goods from this past month: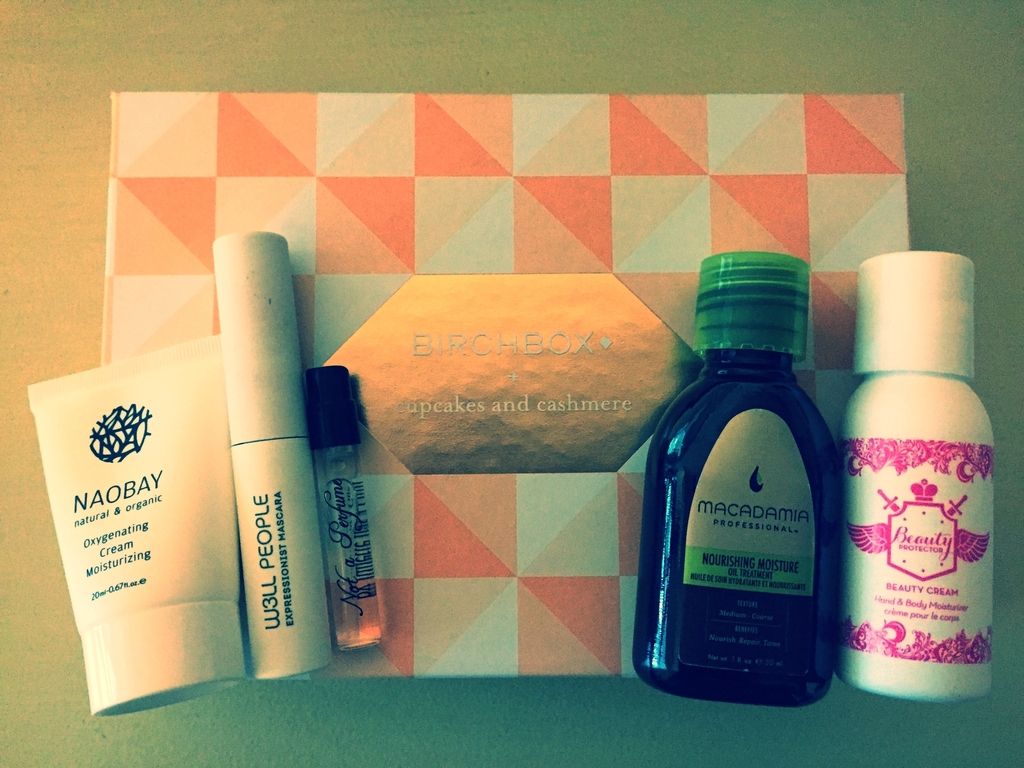 Birchbox (left to right)
Naobay Cream Moisturizer-
Moisturizer seems to be the #1 thing I don't have when I travel, so I like getting these samples. I took it on a trip already, and have to say, it's a bit too greasy for my taste.
*
Well People The Expressionist Mascara-
* I love that this comes in a white tube (though, it is no longer white, after a few weeks in my make-up bag.) I think I will always be excited about getting a mascara in a sub. This one is an expert declumper, and (this is going to make me sound like a total newb, but) after I read the instructions (begin at roots and wiggle back and forth gently) it works like a charm!
Juliette Has a Gun Not a Perfume-
I may be the only person that actually likes perfume samples. They all kinda smell the same to me though. This one is incredibly fresh and light, perfect for Summer.
Macadamia Professional Oil Treatment-
I've been good about getting my hair trimmed lately. But boy, the ends are coarse. I was excited to try a hair oil, especially after hearing my friend Andrea talk about hers. My consensus is that it does make my hair softer, but it's messy, and running it through my hair undoes that natural texture thing I have going on. I would like to try this again when I'm going directly from wash --> straighten.
Beauty Protector Body Lotion-
Never opposed to a travel sized lotion. This stuff gets an A+ for fragrance, consistency, and packaging from me!
*Favorite of the month! Mascara is a staple for any girl, and I loved trying this one out. I don't usually gravitate to shorter, de-clumping wands (I'm normally more of a volume + legnth girl), but I found this worked surprisingly well when paired with another mascara.
This month's box was a collab with Cupcakes and Cashmere. Birchbox, if you're listening, I will gladly collab with you as well! I'd say the box itself was pretty meh, though I like the gold foil detailing.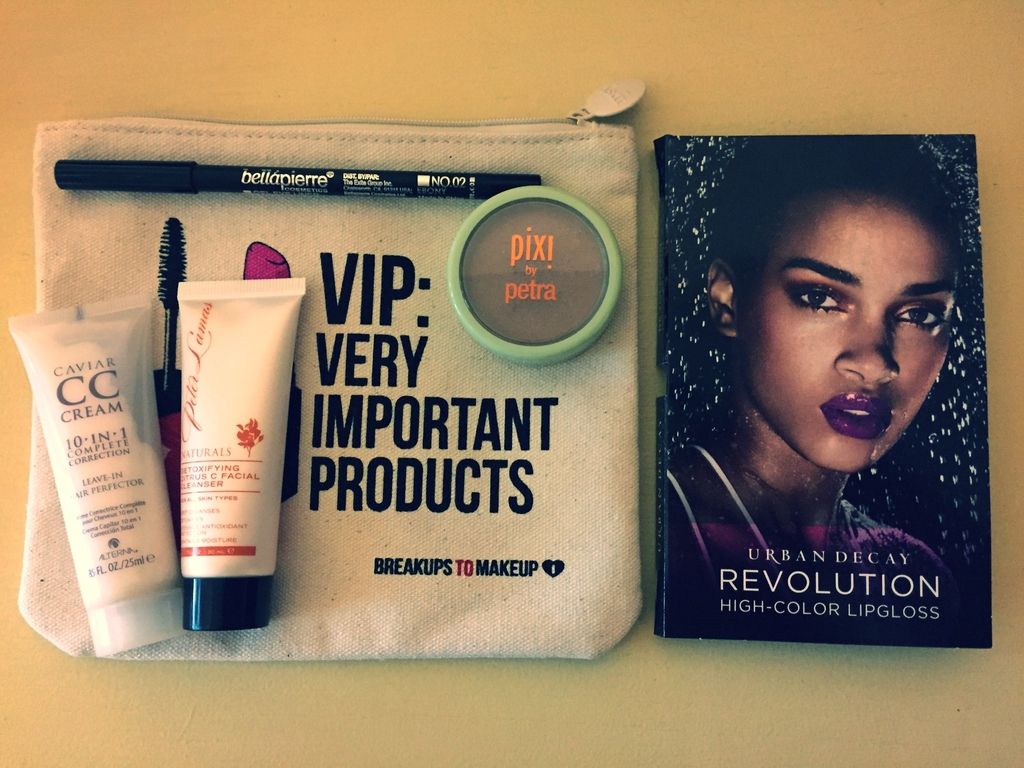 ipsy (clockwise)
BelláPierre Cosmetics Eyeliner-
Always good to get a "daily use" product in a sub! This eyeliner goes on extremely smooth, and stays put all day (with a good primer + setting powder.)
*
Pixi by Petra Bronzer-
* I was so happy to get bronzer! I've been using this everyday since I got it. My beauty friends all said, "Bummer, if it weren't shimmery, you could use it as a highlighter." Not positive what that means, but I like a little shimmer in a bronzer anyhow.
Urban Decay Lip Pencil + Gloss-
I ended up with two of these because non-beauty-friend-Lauren doesn't love purple lipgloss. I don't either, for the record; but after blending it turned out alright. This came with two sample colors and a clear pencil. I used the pencil under lipstick the other day and didn't notice a huge difference, tbh.
Peter Lamas Facial Cleanser-
I will never tire of getting a facial cleanser. This one smells great, and was just soapy enough to wash my makeup off. It came with me immediately on my trip to
New Orleans
.
Alterna Haircare Caviar Cream-
I'm on the fence on this one. I generally don't like (--> don't know how to use) hair products, mostly because getting my hair washed and clean is hard enough as it is. In between my last wash and style, I tried this out. I noticed a soft sheen on my curls, but also some build-up in the back of my hair. User error? I'd like to give this another try.
*Favorite of the month! There's something special about seasonally appropriate products, like someone thought of me specifically. Like I've mentioned, I've been using this everyday!
I've heard mixed reviews about these bags (there were a few designs.) I personally think they're a little silly, but I do appreciate that it's a bit bigger than normal, and have been using it as traveling cosmetics bag lately.
Are the ipsy bags taking over my life?
Let me answer that question with another question; would you believe me if I told you I had three in my purse right now?
And in a shocking twist of events, I believe Birchbox is the winner for this month! That's only happened a couple times. Though they both had products I like, I would say overall, I liked more of the Birchbox products. And the quality seemed better.
Anybody tried any of these products? Or maybe you got a standout something in a subscription? I'd love if you shared it with me!
If you're interested in signing up for ipsy OR Birchbox (or both ;) for $10/month (it's a highlight of my month, for sure), you can find my referral links here:
ipsy
//
Birchbox
.
View the rest of this series here
!