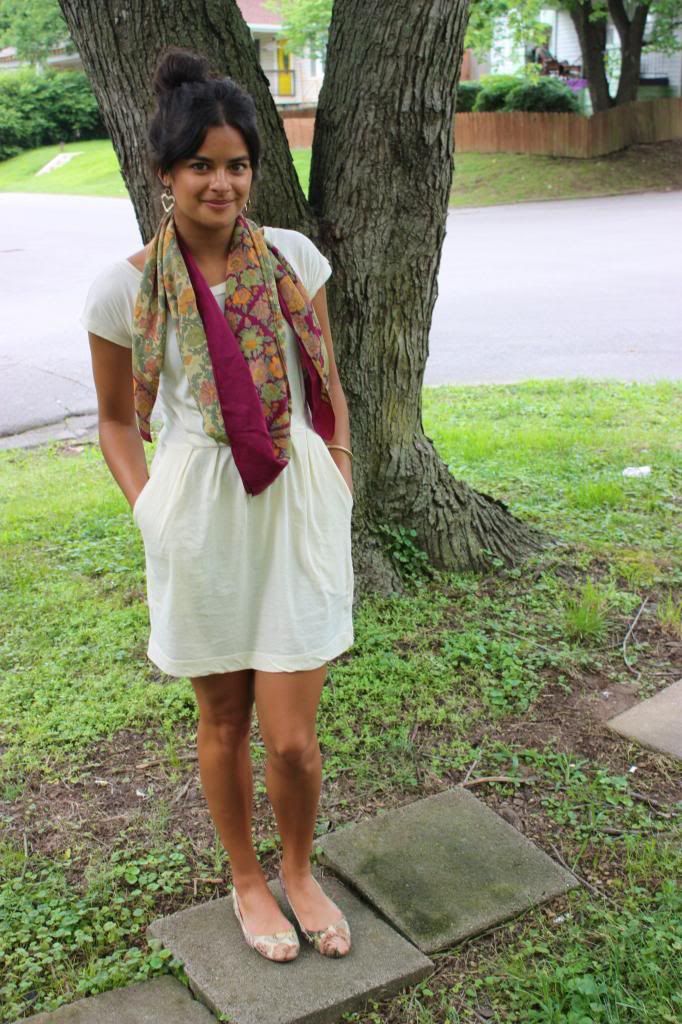 earrings- Wish (Memphis), scarf- made from sari, bracelet- found, dress- UO c/o Carina, flats- H&M
Summer, and specifically summer fashion in Nashville, means one thing:
simple, light, and very light layers- if you dare.
Simple is definitely chic- but sometimes it feels boring to me!
Layers are definitely the way to add spice to a look
but not worth a sweat-induced coma in the muggy 90+ degree days!
I was very excited to try my hand at some handmade projects (sewing for the first time!)
while home with my Mom, and here's the fruits of my labor!
Mom had a bag full of old saris (aka beautiful fabric), and I selected several to transform into scarves and skirts! We didn't get a whole lot done this trip since someone had to rendezvouz to Finland...
but I was especially pleased with how this turned out
(not a real serious DIY...I get it. But if you only knew how craftily challenged I am).
Here's my first set of pictures in my new neighborhood and front yard!
East Nashville has some super awesome and unique backdrops for outfit pictures to come...
and about a million cool places I've only started exploring this week!
Definitely making a mental list for pictures as I run/bike around!
I'm also excited to share some pictures of my new house that I'm still working to set up!
On that note- I'm off to get some frames ready for my room.
One last thing:
I finally have a button!
Another super simple DIY that took me for a spin.
I would love to button swap with anyone interested! Hit me up at priyaannpappu@gmail.com!