Did everyone have a great Valentineekend? (Not quite the same ring as Halloweekend...I'll work on it.)

I celebrated my first ever corporate V-Day, and I have to say, it was right up there with a desktop mailbox grade school one. Namely, treats galore and an intense sugar high that made for a very exciting day, along with giving and getting cards from sweet work friends.

Hunter and I kept our festivities pretty low-key but he did send me with flowers at work (after delivering 10+ bouquets that were not for me, it was the best surprise!) Along with making me dinner, and a couple awesome Lululemon headbands. I've been wearing the same one every day, he knows me!

Here's a couple bits (mostly sweets from Friday) from this weekend!


[clockwise]
1. I came home on Thursday to find: V-Day cookies from my Mom (verbatim from her card: "Priya, you're a real sweetheart [except when you go on strike]), a card from Katie, and a letter from Steph. THE best surprises!
2. Christine made by herself the best V-tine's for us girls in the office.
3. A sweet wife made & sent in this candy basket and cupcakes,
4. The first thing I saw when I came in the morning. I have to say that I purposely did not eat breakfast.
1. Said flowers from Huntee!
2. Yet another cupcake. I can't be stopped, especially when it comes to cupcakes.
3. Hunter and his gift (note the ribbon because I put work into that)!
4. They MAKE these. The first one I ate said "Holla" on it. Times have changed.
Saturday Hunter ran the Hot Chocolate 5K, I slept through it. Then I made him take me out for date night before we went to an "apartment warming" party. Here I am, high maintenance as ever on date night.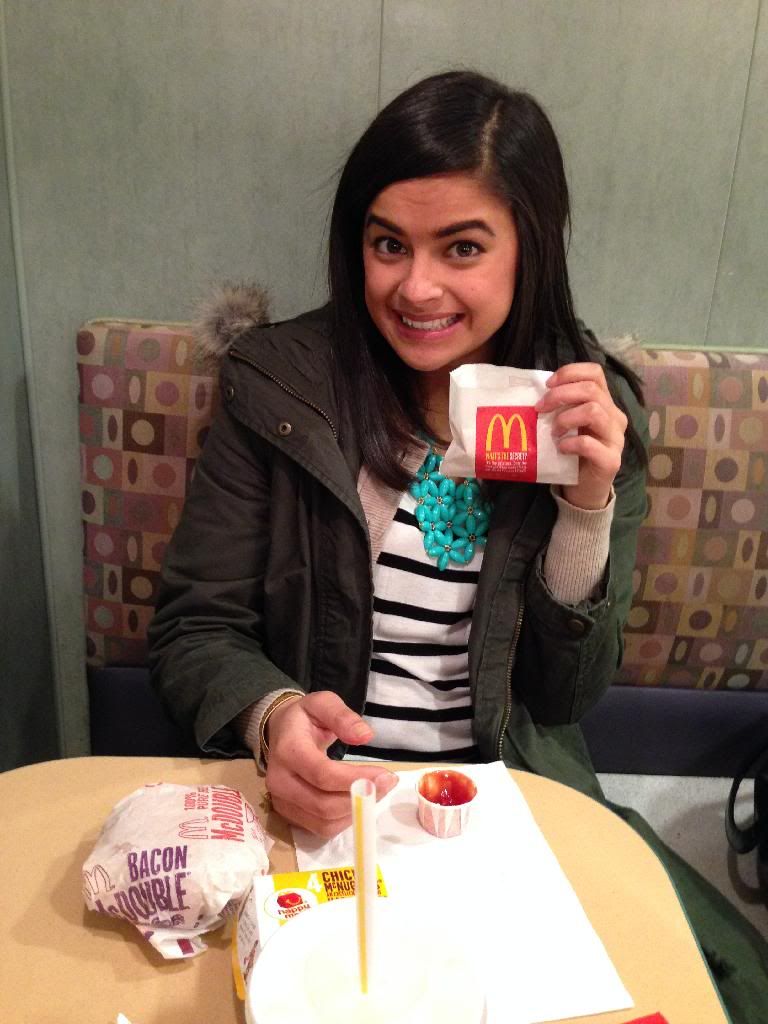 I've been craving McDonald's forever and it just felt so right. It has been a long time since I ate inside at the restaurant at a normal hour. When we pulled up I said "I hope we can get a booth" and Hunter laughed really hard because it sounded like I was talking about some five star cuisine. I did really want a booth though.
No pictures exist from Sunday, but just trust me, it happened, and included: church, a long happy run outside, a nap on the couch, room cleaning, four loads of laundry, and re-watching one of my favorite movies ever:
Like Crazy
. One time I wrote a blog post about it
here
.
I hope you had many happy surprises and even more treats this weekend, you deserve it! Nashville just might be transitioning into Spring and we couldn't be more thrilled.