Two posts in a row? What is this madness?! I wanted to share my outfits from
my trip to CA over the weekend
before they become irrelevant. Then I'll plan on a little packing overview post (and there's a road-map for you). So here's my first look from my trip home: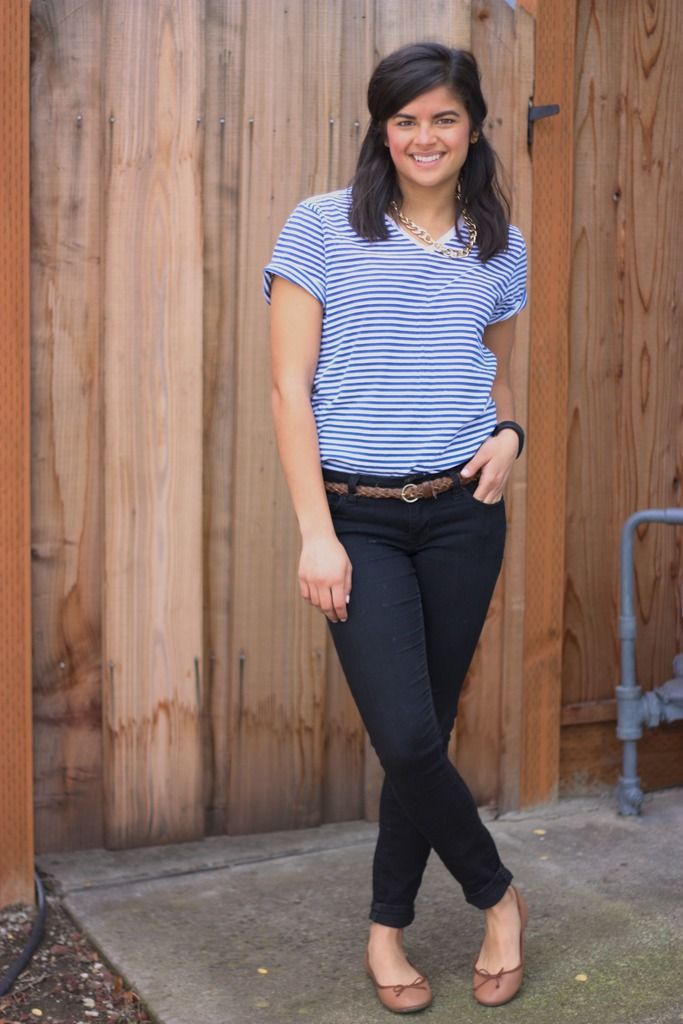 earrings: gift, necklace: H&M, shirt: from Carina (H&M), belt: F21, pants: Old Navy, flats: Old Navy
I think packing is a major headache for me because I'm usually rushing, and rushing to get packed so I can sleep so I can travel. Thinking about what I want to wear for the next four, five, or six days makes me panicked! How am I ever supposed to know?!
What I've learned is, putting the time in to think and plan before your trip makes your life sooo muchhh easierrr when you're on your trip. It also eliminates the problem of opening up your suitcase and thinking "I hate everything I packed" and "None of this goes together!" Anyone ever felt that way?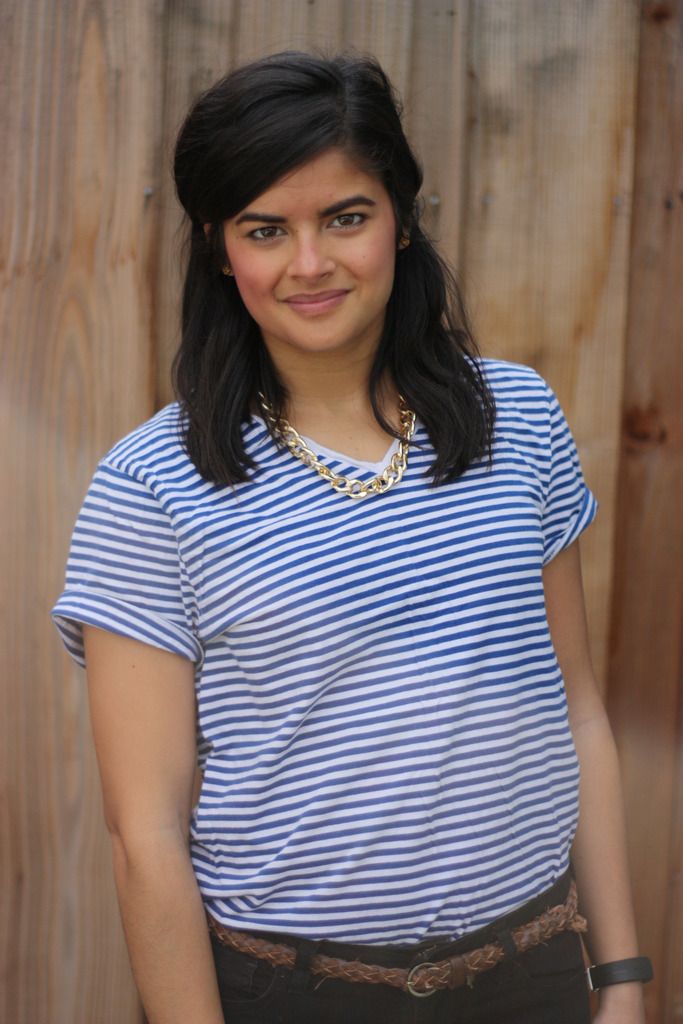 Like any responsible blogger, I longed to pack my entire closet, or at least all my favorite things. Newsflash: a long weekend home is not the time or place for those one-hit wonders that you love so much! Simple goes way, way further, and it always works as a chic outfit!
It helps that I've been loving simple looks lately [on Pinterest, other blogs, real-life outfits...] I attribute it to the hassle of layers in this seemingly never-ending winter, and maybe I'm just tired of over-thinking what to wear in the morning. Classics are classics for a reason, I suppose.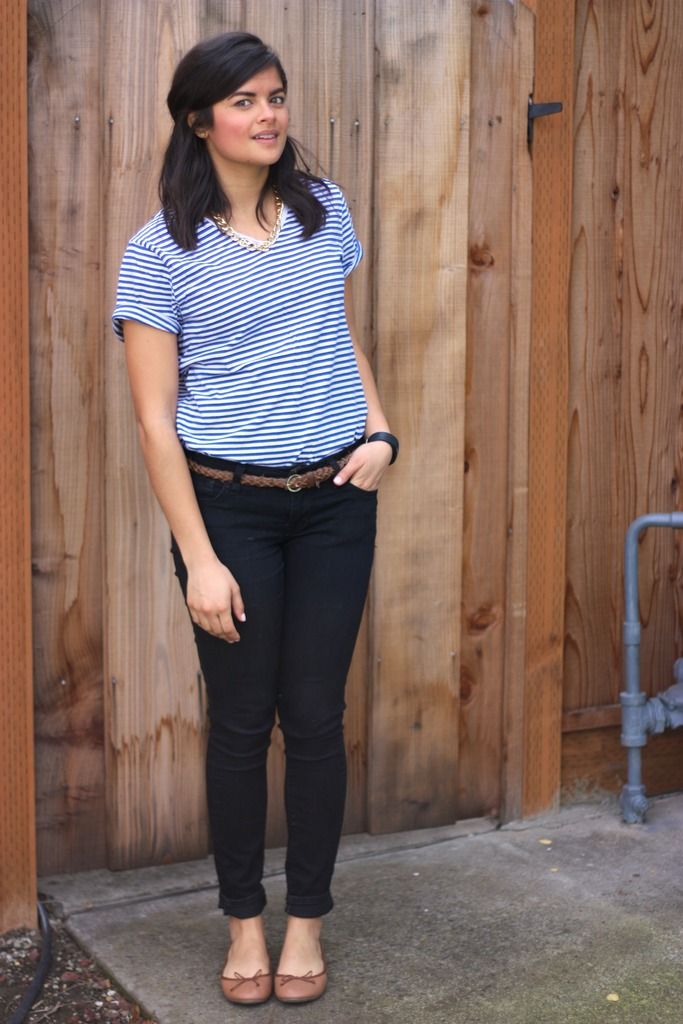 Once I found myself agreeing with the fact that a simple t-shirt/jeans look can be just as pretty as a layer-y/printed/textured/remixed outfit, that's all I want to wear. All the time.
I picked up a few pieces of jewelry on a recent shopping expedition (and my first trip to H&M Nashville). More treasures from that haul soon, don't doubt it.
I read a blog recently [and I can't remember now what it was! If it is you, identify yourself!] where the blogger had a simple chain necklace like this is constant rotation and I thought, I have to get myself one of those! So, simple, again, yet fun enough to add a punch to any outfit. I wore it all weekend. Hunter also called me "50 Cent" all weekend. I'll take it, though!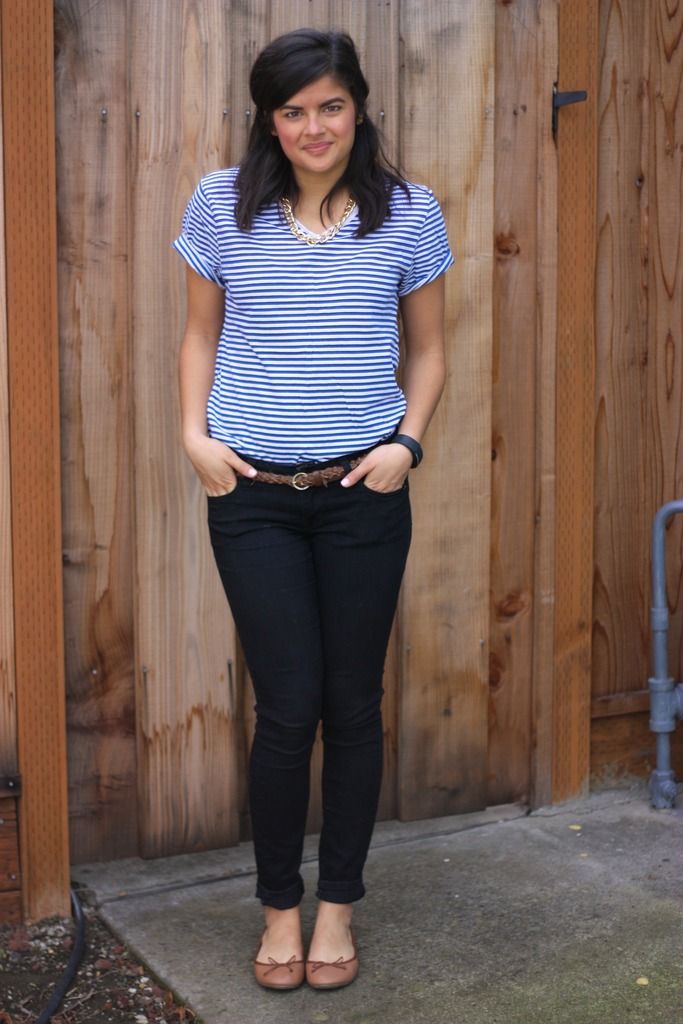 A couple more outfit notes:
this shirt
was a random inheritance from my sister, yet another example of a random article of clothing become my favorite. These
Old Navy pants
are so well-loved in my closet that I'm about to have to be on my third pair, because they're supposed to be black. And it's finally flats weather again! Thank goodness because I have a couple (or a few...or four...) pairs I picked up on Old Navy clearance. This pair is rapidly becoming my favorite.
OH. I wore this on the first day of my trip; while watching Hunter do yard-work for my mom, visiting my sister, having dinner at home, and laughing with some besties. More details from my trip
here
!
That's all for today. Stay tuned for the rest of my travel outfits this week! Thanks for reading.