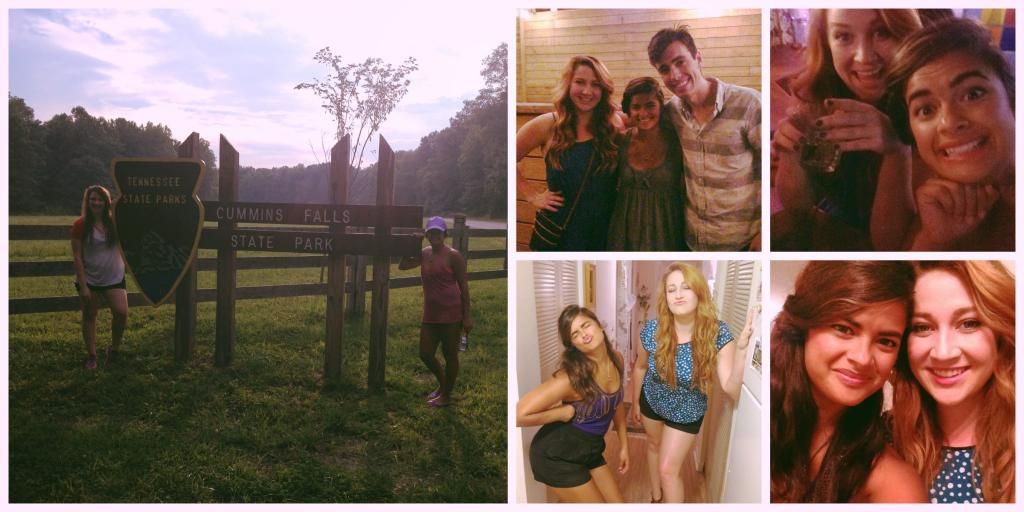 Stephanie and I have been friends for a long time, specifically, since we were about 9. we met at the birthday party of a mutual friend (that we reminisced about on Thursday night), and I have to tell this story because it's so funny: the party was a sleepover and at some point during the night, Steph fell off a couch, woke up confused, and got into the closest sleeping bag- mine. soon after we started going to church together, took a little friendship break, and re-connected right before high-school, which we attended together. so, there's about a million funny memories and stories there.

I'm convinced there's nothing as comforting as old friends. bonus points if they are old friends from home, when now you live in a different place entirely. you can't help but wonder though: now that we're not in the same school/place, does our friendship still work? do we still have things in common/stuff to talk about? the short answer with Steph: yes. TOO many things to talk about. we both share interests and humor, and like Steph said, finally our passions & skills are complementary (her- photography, me- blogging.) it also helps that it's SO easy because she already knows essentially everything about me--and she still likes me! there are a handful of people on this earth that I don't think I could ever scare away by telling a really dumb joke or asking a stupid question- she's one of them.

SO- we had a great weekend. it was her first trip to Nashville, so while I wanted to pimp the city out to her, it was MUCH more laid-back than last weekend with my family. which was so perfect.

Saturday we went to Cummins Falls and I cannot WAIT to go back. I'm not sure if it's real, or man-made I mean. it seems too perfect. we also ate Mexican food nearly everyday, which we were both ok with. we had a couple fun nights out, (including night one of Live On The Green, Nashville's free music festival) where she got to meet some of my Nashville friends! oh- including Michael who also went to high-school with us. we surprised him and that was really really fun. we only broke out the real camera once, I mean, allllllll day on Sunday. that was super fun! otherwise we just snuck some iPhone pics which was so relaxing.

come again Steph! feeling thankful for friends. now excuse me while I take a nap that spans three days.