I think this excerpt from my journal will best describe how I'm feeling right now:
"I think I'll look back on this as a really crazy time in life. Life is so busy but so good! The last couple months feel like they've been non-stop, blogging feels like an afterthought, I have to write everything down, I forget things as soon as--" that's where the entry cuts off. Ha!
This post has literally been in my drafts for a week or so, just waiting to be assembled and posted. Not that it really seems relevant at the moment, but maybe think of it as more of a "life" post with some "old outfit photos" thrown in.
| jacket: Old Navy | top (formerly dress): Old Navy | jeans: 7 For All Mankind | booties: Target |
I wish I had a better representation of what I'm actually wearing right now! But I promise I did wear this, once. Before the temperature dropped and the only time I spend outside is running from or to a building. And my ankles have not seen the light of day since...October. Fall fashion is so, so not appropriate right now (I'm looking at you, 22 degree Nashville! Gimme my Fall! Where'd it go?!)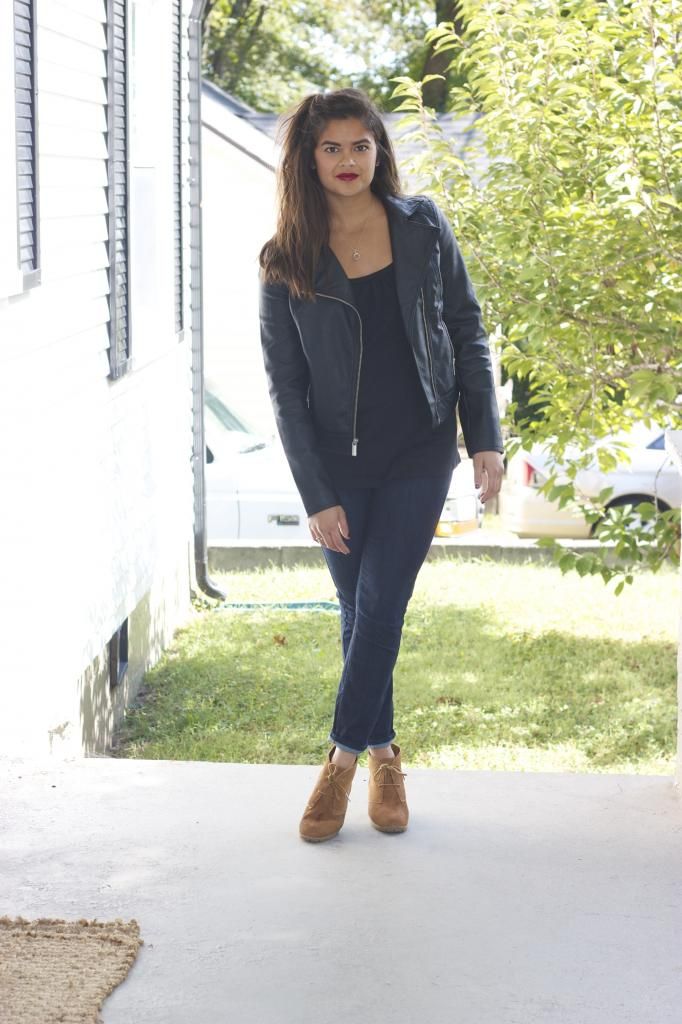 So, because I'm constantly feeling like there are 50 million things in my brain at once, the best fashion strategy has seemed to be: simple. Jacket + shirt + pants. Revolutionary, right? Whenever I find myself bored to wear a black t-shirt with jeans, I think, "Classics are classics because they are classic" You can quote me on that!
I've been trying to wear this jacket more since at one point I thought I couldn't live without it. The problem is that it only seems perfect for Spring or Fall weather. I swear Nashville skipped both this year! This top was from a batch of dresses my wonderful mother made into shirts for me. And these are the jeans I've been wearing everyday, because they were the only ones that fit, but they're so perfectly stretchy that they seem to be a bit stretched out.
I definitely have not gotten in my groove for Winter wear (so ughhhhfashionblogger but seriously.) So I generally haven't been enjoying what I've been wearing lately. There are a few looks I would like to document so maybe I'll get my stuff together before I head to California on Saturday. I am sososo vacation, family, and moderate temperature ready.
Thanks to Dith for taking these pictures for me, over a month ago. I wore this to my friend's show on a Saturday night, which I realize is THE most Nashville thing ever.
I've also worn this jacket on the blog
here
, and for more faux leather jacket inspiration, check out Brittney's sweet pairing
here
. This girl has fabulous style!
I hope this post doesn't sound like a giant complaint- like I wrote in my journal, life feels really busy and good. Oh no, I'm doing that "blogger apology" that is so annoying, you didn't even realize I was gone did you ;) hope you all are well and thanks for reading!